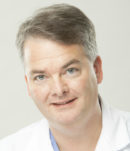 Dr. Swierzewski is an experienced general surgeon and the President of the Medical Staff at Anna Jaques Hospital. He is board-certified in general surgery, hyperbaric medicine and wound care, and is a Fellow of the American College of Surgeons.
Dr. Swierzewski also serves as the Director of Trauma in the Level III Trauma Center at Anna Jaques. His expertise spans an array of elective general surgery and endoscopy. He works with the Wound Care Center as well as running Atlantic Vein Institute where he specializes in treating venous diseases.
Dr. Swierzewski is a member of the Atlantic Surgical Associates practice located on the Anna Jaques Hospital doctor's office building next to the hospital.