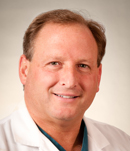 Dr. Jeffrey P. Thurlow is a General & Laparoscopic Surgeon at York Hospital. He is a summa cum laude graduate of Duke University and received the Doctor of Medicine degree from the University of Vermont College of Medicine. He completed his surgical residency training at the Tufts New England Medical Center in Boston.
After finishing additional training in the Harvard Surgical Critical Care Fellowship, he joined Dedham Medical Associates, one of the premier multispecialty group practices in the Boston area. Dr. Thurlow and his family relocated to York in 2003.
Dr. Thurlow is Board Certified in both General Surgery and Surgical Critical Care. He has been on the faculty at Harvard Medical School as an Instructor in Surgery and has been actively involved in teaching Tufts medical students and surgical residents from the Brigham & Womens Hospital in Boston.
Dr. Thurlow was Assistant Chief of Surgery and Director of Surgical Critical Care at the Faulkner Hospital. He is a Fellow of the American College of Surgeons, Diplomate of the American Board of Surgery, and a member of several surgical societies.